The future of entrepreneurship: entrepreneurial women!
Following the exemplary performance given by Claude Caron, Chairman and Director of Continuous Improvement at Jambette, during the panel on innovative manufacturers, Marie-Noël Grenier, President-CEO of Jambette, had her turn to impress the gallery as a panelist.
Marie-Noël Grenier was one of five panelists invited to participate in the avenir de l'entrepreneuriat: les entrepreuneurEs ! [the future of entrepreneurship: entrepreneurial women] panel organized as part of the Rendez-Vous 2016 - Réseau M .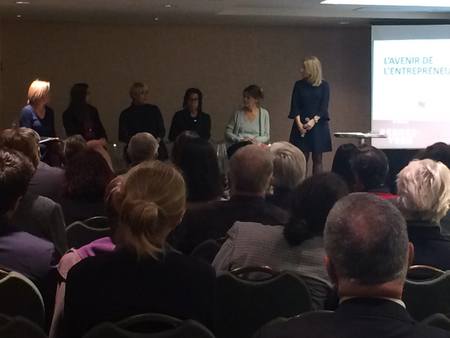 Credits: Fondation de l'entrepreneurship
As a woman at the helm of Canada's largest children's outdoor playground equipment manufacturer, Marie-Noël Grenier had a lot to say about female entrepreneurship. She was invited to share her diverse and impressive entrepreneurial journey. This gave her the opportunity to talk about her perspective on exercising leadership, as a woman, throughout her journey. We should point out that at Jambette, she has played a wide variety of roles from a position in the planning department to Director of Production and Director of Finance. n 2007, she accepted the position of General Manager and has now taken on the role of President-CEO.
The panel participants next discussed the reasons why women are more hesitant to go into business as well as barriers to entrepreneurship, after which they were invited to propose solutions to overcome these barriers.
Finally, the host asked Marie-Noël about her involvement in various organizations and associations, including Femmessor, Effet A, Groupement des chefs d'entreprise, and mentorship at Réseau M, etc. So why is our President-CEO so involved? Because she believes that giving back and contributing to entrepreneurship are of utmost importance. She added that guidance and support must be provided to future female entrepreneurs in diverse ways. Therefore, maintaining and building networks dedicated to women without disregarding those that include both men and women must be encouraged.
We are very proud of her appearance. With a leader of her calibre, all members of Jambette have their sights set on the same thing: success!